Innovation & Transformation
HSBC LiveSign
Now you can easily sign documents anywhere, anytime, and on any device within minutes.
We have launched the use of electronic signature for our corporate customers.
What is an electronic signature?
An electronic signature, or e-signature, is a legal way to gain consent or approval on electronic forms or documents where it's impractical to get a physical signature. Under no circumstances would we ask you for security details such as your PIN, online banking codes or passwords.
What is HSBC LiveSign?
HSBC LiveSign, powered by Adobe, is a cloud-based service that replaces the paper and ink signature process with a fully automated electronic signature workflow.
With LiveSign, customers can easily sign documents anywhere, anytime, and on any device within minutes.
Once the signing process is complete, LiveSign provides HSBC clients with a copy of the signed document as well as an audit trail of the signing events, for their records.
Through LiveSign, the process of signing and returning is reliable and secure.
How do I use HSBC LiveSign?
Simply open the link provided in the email and follow the instructions. This can be done by using a mobile phone, tablet or computer. There is no additional requirement of installing software or applications, logins or scanning.
What other benefits does HSBC LiveSign offer?
Provides an improved client experience and a reduction in processing time.
Allows HSBC clients to securely sign documents as alternative to wet signature.
Offers full protection of client's documents, data and personal information.
Reduces paper usage and protects natural resources.
What will the email look like?
The sender of the email will appear in your inbox something like this:
HSBC Staff Name <echosign@echosign.com>
This is a secure message powered by Adobe Sign/EchoSign and issued by HSBC. The email template might vary slightly, but you can expect a genuine message to look like this: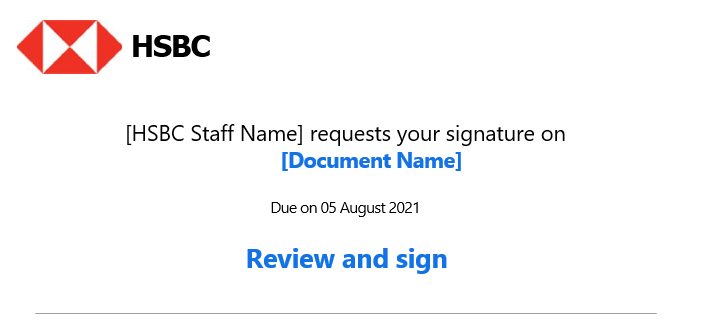 The document name may vary depending on the form being sent out.
If you have not received one of these before, you might be suspicious.
It's a good idea to be on your guard against possible phishing scams - but HSBC does send out genuine messages asking you to sign documents using echosign@echosign.com.
Why is the email from EchoSign?
EchoSign, as written and seen above, is owned by Adobe Sign. It's the technology that allows you to provide an electronic signature.
Useful information
If you're expecting an email from us, remember to check your junk folder in case it's landed there.
The link on the form will redirect you to the document. We'll send a one-time password to your phone to allow you to access the document.
We use the contact details that we hold for you on our system. Please make sure both your email address and mobile number are up-to-date so you can view the form.
Customer support
If you wish to find out more information about HSBC LiveSign for Mauritius or if you are interested in using HSBC LiveSign and would like to understand the solution better, you can contact Yohann Durgadoo <yohann.durgadoo@hsbc.co.mu> or your Corporate Relationship Manager for further assistance.